Welcome to the DCVMN E-learning platform!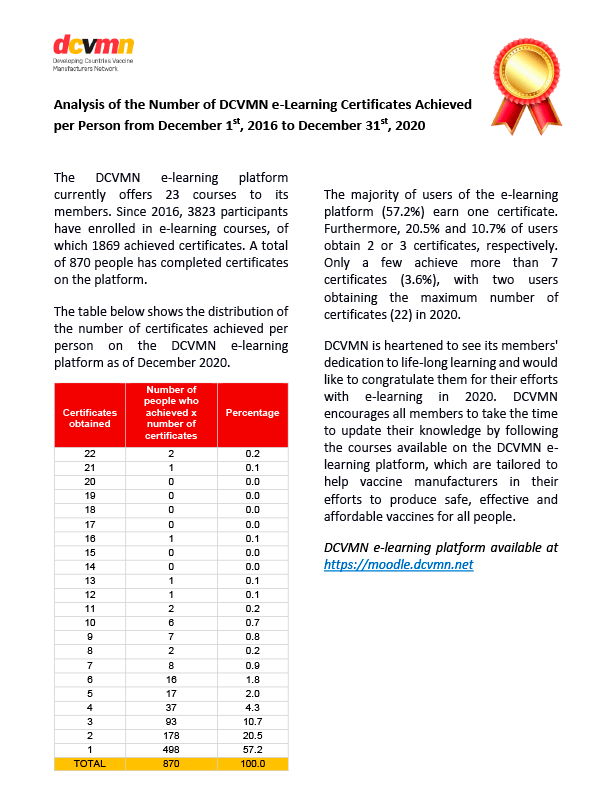 Our E-learning courses are self-tutorials with free and easy access from anywhere in the world. The courses are designed to strengthen vaccine manufacturers' knowledge and understanding to help them produce safe, effective and affordable vaccines for all people.
The platform is accessible for free to all DCVMN members.
Each E-course has approximately 100 self-explanatory slides. The system allows you to follow the E-courses at your own speed: once you have begun the E-course you may pause as often as you like, and later resume from exactly where you stopped. Each course may take an average of 2 to 6 hours to complete, depending on your personal reading speed. We recommend to plan to complete courses within one or two weeks maximum to ensure the information remains current.

The courses are presented in a slide show format, in English language only, and at the end of each course you will be asked to take an optional multi-choice quiz ;in order to assess your learning. A score of 80% or higher is required to pass the quiz and achieve the respective E-course. You can also repeat the courses and quiz as often as you wish. Once you succeed on the quiz, you will receive a customized Certificate of Achievement, which can be downloaded for your records. Please click on "download" button to save your certificate of achievement.
To access any of our courses please follow the steps outlined below:
clicking the topics that you wish to learn
creating new account
requesting to "Enroll me" and then move forward with your learning.

Please click below and start exploring!
We are grateful to Bill & Melinda Gates Foundation for supporting this professional educational platform.

Disclaimer: The material on this platform is for information only. Our goal is to keep this information timely and accurate. However, DCVMN International accept no responsibility or liability with regard to the information content on this site. The E-learning courses are intended to assist interested users to learn sources of information to advance in producing and supplying safe, effective and affordable vaccines for all people. To ensure performance, security and availability of shared information, and to respect potential copyrights issues, prior permission must be obtained for the reproduction of information. DCVMN International does not allow use of any material openly available on this platform for reproduction in other websites. All E-learning materials are property of the indicated authors, and aimed only for self-tutorial use and internal purposes, no professional credits nor academic titles are linked to this platform. DCVMN is not an academic institution and does not provide any academic degree neither academic credits for these E-courses. The Certificate of Achievement is aimed only for personal purposes. If you are a user and have discovered a potential inaccuracy or mistake in any of the materials displayed here, we encourage you to let us know right away and we appreciate your help in disclosing it to us in a responsible manner. We are committed to investigate all legitimate reports, verify and address any potential inadvertently disseminated inaccurate information that are reported to us in a responsible manner. DCVMN International reserves the right, at its discretion, to suspend, change, modify, add or remove portions of the platform at any time.